Remember that good old Snake game that used to be on your Nokia? It's finally getting an official reboot
16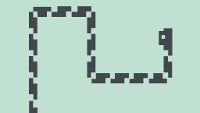 Back in the day of "dumb" phones, gaming on your handset wasn't a very common activity. Obviously, there wasn't really a way to put any software into the gizmo, so owners were stuck with games that were factory pre-baked into the "software". These were usually small, boring, way too simple, or way too repetitive games, with a few exceptions here and there, but no one cared much about them, as game playing was far from a selling point back in the day.
Well, that status quo almost changed when Nokia launched the 6110 with a Snake game installed among its entertainment options – in fact, we are pretty sure that there were many people back then who bought or at least craved a Nokia handset after playing on their friend's phone for about an hour. The game was the Angry Birds of the late '90s with nothing coming close to competing with it.
Snake was far from an original title – there were a lot of games that operated on the same concept and mechanics available for various computer systems before that, most of them employing the word "snake" or "worm" in the title. It just so happens that people were not busy patenting every letter of the alphabet back then, so the title or gameplay really doesn't have a set original author.
Now, as far as who put the game into the 6110 – that was a Nokia engineer by the name of Taneli Armanto. Mr. Armanto has now teamed up with developer Rumilus Design in an effort to refresh, modernize, and reboot the good ol' Snake and maybe return it to its former glory, this time under the name "Snake Rewind". Yes, there are a lot of fan-made copies out there on both the Android and iOS app stores, however, this version seems to try to mix old and new, giving us graphics that remind us of the minimalistic nature of low-res games, but with lots of cool new effects to boot. How will it translate to the touchscreen era? We can't be sure, but we hope it's better than the aforementioned clones.
There is no word on game pricing, though, the trailer does show a pretty blatant mechanic that will allow you to "rewind" your life if you happen to make a mistake. These rewinds seem like they will be purchasable, so we are guessing this new Snake may follow the freemium model. Expect it to pop up on Android, iOS, and Windows Phone app stores on May the 14th.