Refurbished iPad prices drop to $349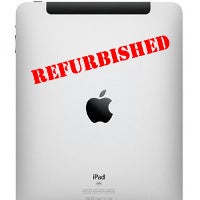 The iPad 2 at $399 already looks like quite a deal, but if you want an even better bang for your buck, a refurbished first-gen iPad or iPad 2 might be the best value for the money at the moment as the most basic Apple first-gen refurb tablet sells for $349. Apple has been selling refurbished iPads for a while now, but the
price just dropped by between $20 and $50
, depending on the model.
The cheapest refurbished iPad 2 starts at $399 for a 32 gig Wi-Fi-only version, while for $449 you can get the 16GB 3G-capable iPad 2.
The best thing about purchasing a refurbished iPad from the Apple Store is the fact that tablets undergo testing and come with a 1-year warranty. And sales prove that there's a huge demand in that segment as there 16GB Wi-Fi-only iPad 2 is already out of stock. Hit the source link below to get all current offers.