Refurbished iPad mini Retina hits the Apple online store for the first time
6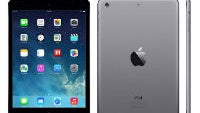 If you're a fan of the iOS platform, or the Apple ecosystem in general, you may have been eyeing the iPad mini Retina for a while now. But, paying $399 for an 8-inch tablet can be a tough pill to swallow for many. If you've been waiting for a cheaper option, today is your day, because refurbished iPad minis with Retina display have finally come to the Apple online store.
Earlier today, there were 16GB Wi-Fi Retina iPad minis available on the store for $339, but they sold out pretty quickly. Still, there are some good deals to be had with Retina iPad minis at about 15% off. This means that you can get a 32GB Wi-Fi iPad mini Retina for $419, or a 64GB model for just $509. Those are still pretty high prices, but given the usual cost of the iPad mini Retina, it's really not so bad.
Presumably, this is just the beginning though. There will be more refurbished models on the way, so if you keep an eye on the Apple online store, there will likely be more of the $339 16GB models on the way eventually.