Red flag for crowdfunding: the Kreyos smartwatch is another failed project, this time costing $1.5 million of backers' cash
18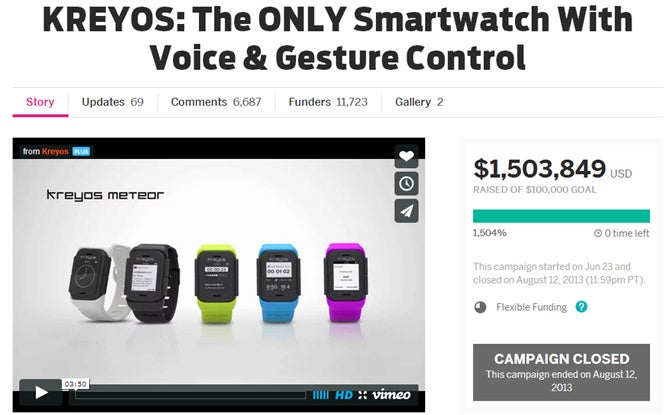 Crowdfunding has seen booming growth in the past few years with websites like Kickstarter and IndieGoGo attracting massive amounts of money and the most popular projects there gathering millions of dollars. Remember the Pebble smartwatch? One of the most successful Kickstarter campaigns, it raised more than $10 million in funding, becoming a hit and is now one of the most popular smartwatches.
However, it's not all roses in crowdfunding land, and many people are starting to wave the red flag after wasting their hard-earned cash on projects that fail miserably. Kreyos is a particularly sore recent example. A brand new company founded by someone with obviously no prior experience, Kreyos promised IndieGoGo backers
"the only smartwatch with voice & gesture control"
and asked $100,000 for that. Instead, it got more than $1.5 million, with enthusiastic backers hoping for a futuristic smartwatch.
Kreyos: a $1.5 million-backed project that failed miserably
However, the big promises in the initial campaign quickly started changing. The July 2013 campaign promised the Kreyos Meteor smartwatch to ship in just three months, in November 2013. Naturally, such a complicated product made by a rather mysterious, but likely small and (as it'd later turn out) inexperienced team, could not be made in three months despite all the promises that development and design have already been finalized prior to the crowdfunding campaign. Shipping dates slipped and backers only started getting the
'futuristic'
Kreyos Meteor smartwatch this month, 9 months after the promised release date. Delays are now such a common part of successful crowdfunding campaigns that we'd be surprised to see one that ships on time, but what was worse with the Kreyos Meteor is the actual device that is currently shipping. Put simply, it's awful.
Thanks to project backers Andrew Wright and Kenneth Larsen, here is a list of just some of the things that went wrong:
- despite claims for waterproofing to beyond 5 meters (15 feet)
- the Kreyos cannot withstand immersion even in shallow water
- speaker quality is terrible, worse than a walkie talkie
- pedometer function is activated with every vibration rendering it useless
- buttons are clunky and very hard to press
- battery life is said to be up to 7 days, while in reality it is just over 24 hours
- user interface design is atrocious, according to users
- stretch goals have not been met
- one of the major functions of the watch - gesture control - is not even supported in any form; and the list goes on.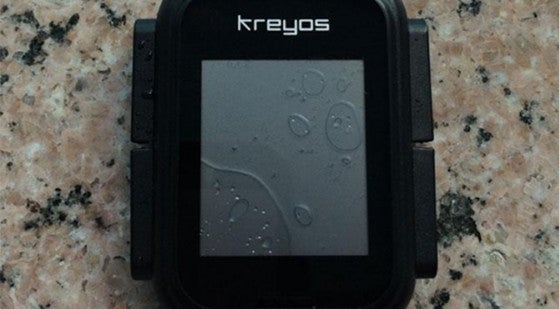 Waterproof... NOT!
At the end of the day, the $170 watch has turned out to be one big fraud. Users now cry foul, but comments are being deleted en masse by Kreyos on its Facebook page, and the company has even annexed and changed the terms and conditions of the campaign in an attempt to save its face. Refund requests are denied, and that has sparked the most outrage. At the same time, Kreyos has managed to stay rather anonymous, hiding behind just one public persona, founder Steve Tan, who - annoyingly - poses on social networks with his brand new Ferrari and bags filled with luxury brands. Even more annoyingly, IndieGoGo, the platform that hosted the campaign, is basically saying that users are to blame to have trusted this pipe dream in the first place.
Finally, the morals of this sad story of the Kreyos smartwatch and really of crowdfunding is one of caution. Promises to ship complex devices in no time from a company that you know nothing about, that does not even disclose the names of its developers, are most likely bogus. And you might be just better off spending those $170 on a good night out, or a real product that has been tested to live up to its promises.