Real-life photo of a Galaxy S8 case leaked, let's analyze it!
50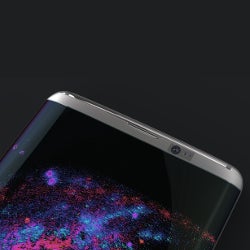 Samsung's next flagship is to be unveiled in about two to three months and, naturally, leaks, rumors, and reports about what the device is going to be are pouring in. We've seen schematics, renders, alleged pictures, and even
designs of cases
for a device, which we are supposed to know nothing about. But hey, that's today's world-o-leaks.
What we have today is a photo of what is allegedly a real case for the
Galaxy S8
. Not a schematic, and not a render. While it still doesn't give us a 100% proof that this is what the S8 will be like, it shows that the maker has some confidence in their sources, as they decided to actually start forging these.
Now, case makers usually use early rumors and, supposedly, their own leaksters within supply chains in order to be able to make their product early. Some will also receive dummy devices (just a paperweight that has the same dimensions and looks as the final product) before a phone is launched, so that they can prep their case models up. However, we can't know whether Samsung has sent these out by now or not.
The paragraph above is there just to make sure that you treat this here as a regular "rumor" or "leak", not confirmation for the Galaxy S8's shape. Now, what do we have?
Well, no dual camera, it seems, which used to be rumored at one point or another. Also, it's worth noting that the hardware buttons — power and volume — are all on the phone's left frame.
Alleged photos of the S8
, which we saw earlier this month, showed a device with a power button on the right and volume keys on the left.
have support for the Samsung-proprietary stylus
, but only as an add-on accessory. Besides, Samsung has never placed the Pen on the left side of the device — it's always docked on the right, probably due to the fact that, statistically, most users are expected to be right-handed. Also, we are still missing a port for the charger. Could this small hole be it?
Either that, or this square opening is where the speaker is actually going to be, and our theory about the thin slits being openings for stereo speakers is a dud. In that case, the bottom slit would be where the USB Type-C port resides, and the top one would be... beats us. An IR port? We doubt Samsung would go back on that decision, but who knows.
Oh well, waiting for more info to leak out!