Razer Phone 2 price, release date and where to buy
2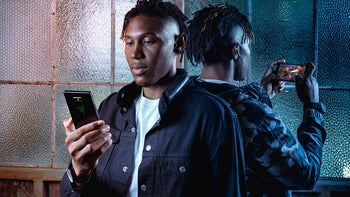 Behold, the only phone with a true 120Hz display refresh rate! That's the Razer-branded gaming handset, of course, and its successor just got official under the inconspicuous title the
Razer Phone 2
.
Laden with Qualcomm's current top-shelf Snapdragon 845 chipset, the Razer Phone 2 gets a gaming performance boost of 30% compared to the original. The heir benefits not only from the new chipset production node but also from vapor chamber cooling. We are glad that Razer is calling its piping this, and not a "liquid cooling system" as most other brands do.
That's not all there is to the gaming chops of the new Razer phone, though, as it sports no less than 8GB of RAM for faster loading and smoother gameplay, as well as dual stereo speakers at the front for blasting the game audio. A hearty 4000 mAh keeps the light on during those long title sessions, and the familiar tri-headed snake logo alone raises the framerate twofold.
Razer Phone 2 pricing and availability
We kid, but the Razer Phone 2 is indeed a stand-out product if you can stomach the relatively large and choppy interior, which is otherwise crafted out of premium materials. How much for this wide-eyed gamer's puppy? In this day and age, where $799 tag is the new $599 (Pixel 3 is the living proof), a price of eight Benjamins comes to no surprise but is still $100 more than what the original Razer commanded at launch.
Razer Phone 2 comes priced as the Google Pixel 3
The Razer Phone 2 can be pre-ordered as soon as today, October 11 at 12.01 a.m. Pacific Time/3am Eastern for US$799. Gaming aficionados in USA, Europe, and Asia will be able to get it directly from Razer.com, and start their
PUBG
glory quest in no time. What do you think about this pricing, worth the hardware and street cred, or one can do better at this price tag?
| | Price | Release date |
| --- | --- | --- |
| Razer Phone 2 | $799 | Pre-order on October 11 at 12.01 a.m. Pacific Time at Razer.com |