RPG classic Baldur's Gate now available for iPad
7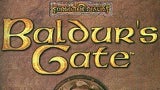 Hardcore gamers and RPG enthusiasts alike have a new old-school title to enjoy on their iPads - Baldur's Gate: Enhanced Edition. This is a role-playing game in the best traditions of the genre, and a one that every RPG fan has to play. The so-called Enhanced Edition contains the original Baldur's Gate campaign, plus the Tales of the Sword Coast expansion. It also features a new Arena mode and additional companion character choices.
The game is only available for iPad now, and we wouldn't expect it to get ported for phones anytime soon, given the small GUI elements. Though, we'd love to see it make its way to Android tablets as well (a port is in the works). The whooping 1.7 GB download will cost you $9.99 and many sleepless nights.
Download Baldur's Gate: Enhanced Edition for iPad here!
via:
PocketGamer