RIM's new BlackBerry name and stock market ticker symbol take effect February 4th
5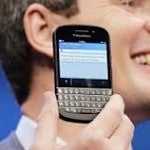 For years, if you wanted to make an investment in the stock market on the company that made BlackBerry phones, you needed to buy the shares of
Research In Motion
, which went by the ticker symbol RIMM on NASDAQ. But amid all of the hoopla of the new BlackBerry 10 OS, and the new BlackBerry Z10 and BlackBerry Q10 handsets,
the company has dropped the old name and will be known as BlackBerry
. But this will not start until Monday, February 4th.
BBRY
. And don't think that only stock traders or companies that print checks and business cards are affected. Right here at PhoneArena, we are undergoing a very rapid, but deep reprogramming of our thought process to remove RIM and replace it with BlackBerry. Some of this training involves sitting us in front of a QWERTY keyboard that hands out electric shocks whenever we type RIM instead of BlackBerry. Outside of the odd twitch and strange burning smell, it looks like everyone will be just fine.
Finally, we should note how fast this change came about at
RIM
(OUCH!) BlackBerry. As the sun rose on Wednesday morning,
workers were already fastening the new BlackBerry name and logo to office buildings
. It is a way to make a clean break from a past that had its share of great success, but also deep disappointment and failures.
source: RIM via
Crackberry