No sign of RIM name on BlackBerry offices
8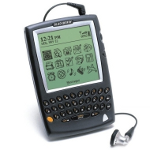 Before there was a BlackBerry, a company named
Research in Motion
turned the Ericsson built Mobitex data network into a pipeline for two way mobile texting and email. In August 1998, the company released its first product which was the Inter@ctive Pager 950. Eventually, the pagers gave way to mobile phones. The BlackBerry 5810, released in 2002, was the first real 'Berry and priced at over $700, was the first to make and take voice calls. That gave way to the BlackBerry 7230 which had 16MB of native storage and a color screen, all for $400. The rest is history.
a peak near $140
in 2008. The suggestion that the company re-brand itself as BlackBerry had been around for sometime, but it wasn't until today's introduction of BlackBerry 10
that the RIM name was put out to pasture and replaced by the BlackBerry moniker
. It is a smart move by CEO Thorsten Heins because it shows that the company is starting fresh and he is cutting all ties to its past, which is probably a good thing.
So RIM employees went to bed last night, working for Research in Motion, and awoke as BlackBerry employees. Signage has already been changed throughout the company as a tweet from an employee shows with the new BlackBerry name replacing the RIM logo on one of the company's office buildings. This has been done system-wide throughout the company. Unfortunately for investors, even though the name has been changed, the stock's direction remains the same, down 12% on Wednesday as traders fretted over
the delay to mid-March for the U.S. launch
.
source:
NicoleLampa
via
BerryReview