RIM showing off native email and contacts apps for the PlayBook
4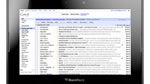 At its BlackBerry Innovation Forum this week Research in Motion was showing off a native email client and contacts application for its
PlayBook
tablet. RIM representatives indicated that the applications will be coming to the PlayBook as part of the
planned update
on February 17th. RIM also showed off a companion keyboard, which is expected to ship "early 2012".
Initial impressions of the unreleased applications are positive, leading some to ask why it will take until February 2012 to get them to customers. This is seen as part of a larger question of whether RIM has the proper urgency needed to upgrade its 7" QNX-based tablet into a more useful, consumer-friendly device.
A lot has changed since the launch of the PlayBook. The initial device shipped lacking basic productivity apps and without the support of a robust app ecosystem. As a result sales fizzled, and the PlayBook isn't even in the top 5 bestselling tablets for the year, despite
widespread discounting
last quarter.
At this point it seems that wider adoption of the PlayBook will require the same thing RIM needs to turn around its rapidly eroding smartphone market share: the launch and success of their BBX-based handsets. Since the PlayBook and the upcoming phones share the same OS, it seems reasonable that RIM may have prioritized development of the new handsets in the hope of turning around the fortunes of both the company and the tablets they sell.
With the
latest rumors
pegging the release of their first BBX handset in late summer or early fall 2012, they need to put all the effort they can into executing on that part of the product line. Still, the new email and contacts apps should make current PlayBook owners much happier.
Any readers out there with a PlayBook that are really looking forward to this update?
source:
BlackBerryCool
via
PC Mag