RIM launches Test Center App Store category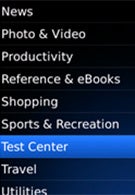 RIM has launched a brand new online application store category that will host programs that are under development at the time of their unofficial release there. The name of the new category for beta software is Test Center and it already features three applications - MySpace 2.0, eBay 1.0 and Rolle Call Reminder List Free Beta. All of them are free of charge and can be tested by anyone who owns a BlackBerry handset. The new category is centered on the idea that customers may provide valuable feedback to developers by sharing their impressions, any problems they had while using the software as well as come up with suggestions about functions they would like to see in the final versions of the programs.
All told, this looks like a really good move of RIM, because it would allow developers to gather relevant information about their applications coming directly from the future buyers of the software. Moreover companies will be able to better meet the needs of their customers and address any issues and suggestions, provided, of course, they are willing to.
source:
Official BlackBerry Blog