RIM confirms its commitment to the BlackBerry PlayBook, not exiting the tablet scene anytime soon
6
The aforementioned speculations were fueled by several factors. First of all, a number of retailers decided to
aggressively drop the price of the PlayBook
this week, supposedly in effort to boost its weak sales. In addition, the news about Quanta Computer – the guys who actually assemble RIM's tablet,
laying off a fraction of its factory workers
because of diminishing PlayBook orders, was interpreted as a sign that the device will be manufactured no more.
As a result,
market analysts were quick to declare all of RIM's future tablet projects dead
, but if the company's words are to be trusted, that is not likely to be the case. Perhaps, RIM has decided to put the assembly lines in low gear in order to clear up its PlayBook inventory before ordering any further batches. Or could the company be simply denying the inevitable? Boldly stating that it will remain committed to the PlayBook may be just a way of RIM trying to bring back investors' faith in the company.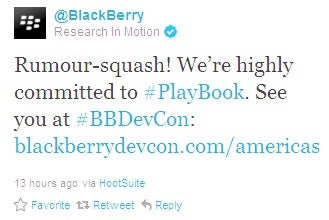 Whatever the real deal may be, we probably won't be wrong if we say that the future of the BlackBerry PlayBook now highly depends on the
Amazon Kindle Fire
and on the way the market will react to its introduction. If the Fire sells well, and it most likely will, interest in the PlayBook may drop even further. Sure, RIM is expected to breathe some new life into its tablet by launching a major software update for it in the near future, but by the time that happens, it might already be too late for the PlayBook to have any real chances at catching up.