BlackBerry PlayBook price slashed by $200, courtesy of Staples and Office Depot
6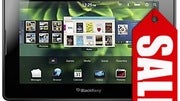 Disappointing, to say the least, are what
BlackBerry PlayBook
sales figures have been so far, and some retailers across the US are now taking action to move their inventory. And is there a better way to make that happen than slashing its price down by a few benjamins?
Through October 1,
Office Depot and Staples are taking $200 off the price of all BlackBerry PlayBook models
, meaning that its cheapest, 16 gig version can be yours for the reasonable $299. If plentiful storage is a priority, the price of the 64 gigabyte model stands at exactly $499. There is a catch, however, as only $100 of the discount get deducted instantly. The remainder comes as gift card should you choose to grab a PlayBook from Office Depot, or in the form of a mail-in rebate if you pick the tablet at Staples.
Half-baked software has been quoted as the main reason for the BlackBerry PlayBook's poor sales, and that shouldn't come as a surprise since the tablet lacked some basic yet necessary features at launch. For example, a dedicated email client, calendar application and contacts manager were strangely missing from the set. However, the upcoming major software update for RIM's tablet is expecting to breathe new life into it, meaning that getting a PlayBook on the cheap might not be such a bad idea after all.