RIM settles India's security fears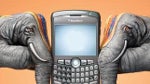 India's cell phone market is a world ofits own with local brands taking the lead, but Canadian cell phonemanufacturer RIM has held its position relatively steady until now.Indian authorities have given the BlackBerry maker time until
January31
st
to grant them access to the 'Berries'encrypted messaging service. RIM announced today that it has managedto provide the Indian government with access to regular users'messaging service without breaking into corporate emails.
This means that security agencies inthe country will be able to look into RIM's messanger and publicemails, while corporate email should not be affected. BlackBerriesare presented in India with over 1.1 million devices and abreach in corporate messages security could lead to the companylosing its share. Indian officials, however, still have not come upwith an official reaction.
RIM was not the only company from whichthe Indian government required more transparency – Google andSkype were asked to install servers in the country to allowbetter traffic monitoring by the local authorities. Such draconiansecurity measures come after the country boosted its anti-terroristefforts in a concern that cell phones might be used for plottingattacks.
source:
AFP