RIM brags about new features on PlayBook 2.0: use your smartphone as a controller
6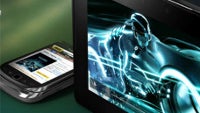 If you're a BlackBerry loyalist, Amsterdam is the place to be these days with
BlackBerry DevCon
going on there, and here's some awesome news from it - RIM has shown some new features that will come on the PlayBook 2.0.
Particularly, BlackBerry Bridge will translate your gestures, swipes and touches directly and instantly from your 'Berry smartphone to the PlayBook, making great use of the extra space on that 7-inch display of the tablet. With a stand of sorts, we can imagine kicking back and playing a game with the
smartphone as a controller
, or using it for just casual browser without having to hunch over the tablet.
Other new features, include an updated, more
social calendar
which would give you additional information about the people you have scheduled meetings with. It also colorizes dates when you're busier.
The best news however is that the
PlayBook 2.0
is expected by the end of the month - definitely something we'd be covering so stay tuned.