RIM CEO thinks the company has a "clear shot at being number 3"
34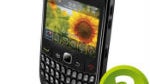 Analysts and users may not totally agree, but at least the head of RIM has a positive outlook on what the future holds for the BlackBerry platform. In fact, Thorsten Heins believes that RIM can be successful enough to be number three in the market. Although, Heins sort of undercut his own optimism in the same statement. At the BlackBerry Jam Americas conference, Heins said:
We have a clear shot at being the number three platform on the market. We're not just another open platform on the market, we are BlackBerry.
The statement was a good shot at bravado, but the problem is: What exactly does "we are BlackBerry" even mean anymore?
Yes, for a while there, BlackBerry was a name synonymous with pretty positive adjectives like "secure", "productive", "innovative", "smart", and "quality". Unfortunately, those days are at least four years in the past. These days, you're far more likely to hear the adjectives "stagnant", "behind", "boring", and "dying". Sure, BlackBerry still has the "secure" part hanging around, but the name doesn't exactly have the best connotations right now.
RIM is trying hard to get back that old magic, and as we saw with the
BlackBerry 10 beta 3 preview
, the company does have a pretty solid base platform to work from. It's hard to say that RIM has an advantage over Microsoft in this race, because Microsoft has deep, deep pockets, and is looking to leverage its PC dominance into the mobile market, but RIM may have a better shot than we've been thinking.
Overall, we like what Heins has been showing. The product looks interesting, and Heins has shown that he understands what he's up against saying, "you climb a mountain step by step." And, Heins is looking to really build a platform, not just a good smartphone to lead back into the market.