A look at BlackBerry 10 beta 3 and developer device
26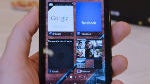 The
BlackBerry Jam Americas
conference was in full swing today giving developers a good look at what to expect from BlackBerry 10, and for that RIM showed off the new beta 3 version of the BlackBerry 10 software, as well as a new developer phone, the Dev Alpha B. The phone itself looked pretty solid at 16GB of storage, 1GB of RAM, and a 4.2-inch 1280x768 display, which is slightly higher than the 1280x720 that RIM said was the target resolution for developers. One more interesting detail was that the new dev phone does not have a microSD card slot, whereas the first dev phone did.
The software looks like a relatively standard smartphone interface, except for the homescreen. It starts out with a mult-paned homescreen that shows your currently running apps, and can hold a total of 8 panes, called "Active Frames". These can be closed out by tapping a small "X" in the lower right corner. RIM made a point to note that these are all thumbnail views of actively running programs, and are not the same as widgets or live tiles. Developers can take advantage of some responsive design to allow the thumbnail to show the same running content, but in a layout that works better in the smaller frame. Going past the Active Frame screen, you'll find a traditional grid of apps, like iOS or Android's app drawer, where you can organize apps, and create folders.
The system also uses a few gestures to get to key features. For example, if you drag up then right, you will pull out the BlackBerry Hub, which is the new unified messaging hub for BB. The BB Hub pulls together e-mail, BBM, Facebook, Twitter, and more, although we need to note that not all of theses services will be available at launch. The Hub also serves as the notifications center for your apps, and as an interesting feature, you can just "peek" at notifications by doing a partial gesture.
Another gesture is swiping down from the top of the screen, and this pulls up the menu options for apps. Swiping up from the bottom allows you to cycle through your open apps.
BlackBerry is also going to try to let you balance work and play with the "BlackBerry Balance" feature, which allows you to open apps either in "personal" mode or "work" mode. "Work" mode apps show up with a small briefcase icon on the homescreen, and are locked down with the security that BlackBerry built its reputation on. However, things get a bit odd because BB10 also has a "hybrid mode" which attempts to mix the two worlds together, and the results can be a bit uneven, and it can be hard for the user to know exactly what is getting the security bump.
Overall, it's an interesting look for BlackBerry, and it does have a couple nice features that can set it apart. Active Frames have the potential to be something special, and it's a feature that we can see the evolution line, where down the road there may be more interactive features for the Frames. BlackBerry Hub also looks to be both a great way to pull together all of your various streams of communication as well as having a centralized notification area.
Everything looks to run smoothly, and that's great to see when we're so far out from the real release. RIM has about 3 more months before BlackBerry 10 is going to hit its RTM version, so that should be plenty of time to work out any kinks, and RIM is promising some "surprises" in the final software. We can't say that our expectations were very high going into this, but RIM has managed to get us a bit excited about the coming devices. Now, it's just a matter of whether RIM has gotten the attention of the developers as well.