BlackBerry 10 SDK and "Dev Alpha" device released to developers
10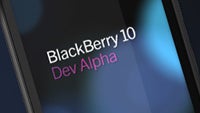 Yesterday we showed you a few leaked shots of the
Blackberry 10 Alpha Developer's phone
. It wasn't a long wait until the official release because it just happened. RIM has just handed over BlackBerry 10 "Dev Alpha" devices out to developers so they can start creating BlackBerry 10 apps.
The prototype device has a 4.2-inch touch display with a 1280 x 768 resolution, OMAP processor, 1GB RAM, 16GB of internal storage, micro USB, and HDMI out. All developers that attend BlackBerry World will receive a Dev Alpha unit and the BlackBerry 10 native SDK is now available for download via RIM's website.
RIM made it clear that this unit does not necessarily guarantee that the final release unit will sport the same hardware specs, but for a prototype, it looks pretty decent so far.
"[We're] giving developers full access to the native platform," says Christopher Smith, RIM's vice president of application platform and tools. "You can have your application messages flowing right into the main unified inbox. You can register pattern recognizers, so that when you're in some other app, it can launch based on an address."