Qualcomm insider claims that Apple's 64-bit A7 CPU caused panic among chipmakers
82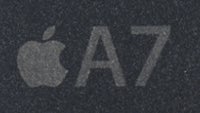 Chipmaking industry top executives have been putting a brave face ever since Apple outed its 64-bit A7 chip along with the iPhone 5s, but if a story shared by an alleged Qualcomm insider is to be believed, the in-house system-on-chip actually "set off panic" among silicon vendors.
Quoted by HubSpot, the insider claims that the A7 hit Qualcomm "in the gut":
"
Not just us, but everyone, really. We were slack-jawed, and stunned, and unprepared. It's not that big a performance difference right now, since most current software won't benefit. But in Spinal Tapterms it's like, 32 more, and now everyone wants it
." says the insider. "
Apple kicked everybody in the balls with this. It's being downplayed, but it set off panic in the industry
."
That's despite
the knee-jerk reaction of one Qualcomm executive
, that labeled the chip a marketing gimmick, the same executive that was promptly
reassigned
after Qualcomm issued a
statement
refuting the former's statement. More importantly, not long after the iPhone 5s debut, both Qualcomm and Samsung announced their own transition plants. Be that as it may, chipmakers apparently didn't view the transition towards a 64-bit architecture with too much interest initially, and reportedly thought it wasn't worth the R&D spending at the time.
"
The roadmap for 64-bit was nowhere close to Apple's, since no one thought it was that essential
," says the insider. "
The evolution was going to be steady. Sure, it's neat, it's the future, but it's not really essential for conditions now
."
Whether you decide to trust the alleged insider's story or not, there's no denying that the competition has jumped on the bandwagon almost instantaneously, and that, more than anything, should signal just how close to home the above claims really are.
source:
HubSpot
via
Apple Insider