Qualcomm demos 3rd-gen Snapdragon MSM8660: smooth mobile video
7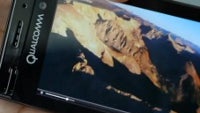 Qualcomm first showed us the 3rd generation of its Snapdragon chips back at CES in January, and we'veseen some benchmarks confirm its rock solid performance and nearlydouble improvement in graphics, but now that the mobile developmentplatform (MDP) is out, you can see the future of smartphones foryourself. The prototype, which is available through Bsquare for$1350, should capture your attention mostly if you're a developer asits not meant for commercial use, but rather for softwaredevelopment.
The third generation dual-core Snapdragon MSM8660 does make playing back fullHD 1080p videos and HTML5 in your browser a breeze. And if youweren't convinced by that, the video below shows just how much smoother playback on the Snapdragon rates against a popular rival(cough, Tegra 2, cough). The spec sheet proves that the processor's clock on the MSM8x60 couldbe set to as much as 1.5GHz and it comes with Adreno 220graphics.
Qualcomm's naming convention uses adifferent number for different technologies, so while the 3rd generation processors are generalized by the MSM8x60 moniker, the8260 is the GSM/UMTS version, the 8660 works on CDMA networks, whilethe 8960 is reserved for LTE devices. All of them share a common 45nmsemiconductor technology. The first devices with the chipset arecoming in the third quarter of the year, including handsets like theHTC EVO 3D and HTC Sensation.
source: Qualcomm (1),(2)via SlashGear
Recommended Stories