Qualcomm's new Snapdragon Wear 3100 smartwatch chipset is all about battery life
10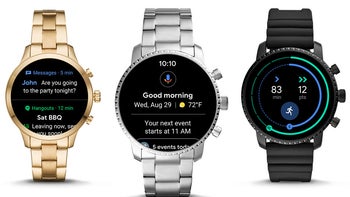 In sync with its
latest teaser
, Qualcomm just unveiled a brand new chip, tailor-made for smartwatches, promising to land the next era for
Wear OS
devices. You guessed it, the long-awaited sequel for the
Snapdragon Wear 2100
platform is here, dubbed Wear 3100.

Qualcomm's first shot at wearable chippery came in the form of a repackaged Snapdragon 400 which had neither the performance nor the battery life needed for the task. Then came Snapdragon Wear 2100. It was 30% smaller than the Snapdragon 400, enabling thinner designs, and used less power, too, plus it brought about 4G LTE connectivity support.

Wear 3100 specs
The newest kid on the smartwatch chipsets block from Qualcomm, Snapdragon Wear 3100, is building on the 2100 legacy, vastly improving it in a few key areas, chief of which is battery life. This much-needed boost to the endurance future Wear OS timepieces will come courtesy of ultra-low-power system architecture with the more powerful A7 processor cores joined by Qualcomm's newest QCC1110 chip.
That one is incredibly small and tasked with co-processing the display and sensory input, offloading the work from the main cores. In addition, the 4G modem uses lifehacks like "Gallium Arsenide power amplifiers" to keep battery draw while maintaining LTE network connection at a minimum.
Battery life
The aggregate improvement from all these enhanced chips inside Snapdragon Wear 3100 is the whopping 4-12 hours of extra smartwatch-ing daily when compared to 2100 with the same battery size. Moreover, there is a new Traditional Watch Mode which basically exits the Wear OS system, swapping it with basic timepiece functionality only, and can deliver up to a week of battery life in that regime.
The Snapdragon Wear 3100 platform has three versions - with Bluetooth and Wi-Fi connectivity, for GPS-based tethered smartwatches, and one targeted towards 4G LTE models. High-end customers like Fossil Group, Louis Vuitton, and Montblanc will be the first out of the gate to launch products based on Snapdragon Wear 3100.
Recommended Stories