Snapdragon 845 Android phones are significantly faster than latest iPhones in cellular speeds
19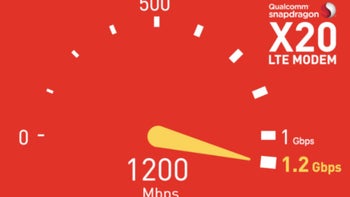 The cellular speeds of the Qualcomm Snapdragon 845 chip used on most high-end Android phones in 2018 are significantly faster than the cellular speeds you can get on the latest Apple iPhones equipped with an Intel modem.
The findings were published today by Qualcomm itself after the company looked at over a million user-initiated test on the popular Speedtest app by Ookla.
The Snapdragon 845 chip is what powers devices like the Samsung Galaxy S9 series, the LG G7 ThinQ, OnePlus 6 and the HTC U12+, and it is the Qualcomm X20 modem inside it that provides the fast speeds.
Data from the worst-case AT&T network scenario show that Snapdragon-based Android phones had 192% faster speeds than iPhones with an Intel modem. In the common network scenario, Qualcomm chips were 64% faster on AT&T and 68% faster on T-Mobile for downloads, while uploads were 41% faster on AT&T and 23% faster on T-Mobile. Latency was also lower (lower means better here).
iPhones use Intel modems, while Android phones stick with Qualcomm's X20 modem
Qualcomm is, of course, very interested in undermining the competition, especially considering that it has lost a big chunk of its modem business with Apple after Intel first started shipping its modems for the iPhone 7 and the Apple-Intel partnership expanded with the iPhone 8 and iPhone X series.
It's not just Qualcomm, though. Samsung has also recently released a series of ads attacking iPhones for offering less features and functionality to users and one of the biggest blows was slower cellular speeds of the otherwise more expensive iPhone models.
This time around, Qualcomm does seem to have a point. It provides factual data based on a large pool of what looks like random speed tests from different locations and it's hard to argue with it. What is your experience with Qualcomm's chips versus those of Apple? Have you found your speeds lacking?