Qualcomm's wired and wireless charging tech is about to get a lot quicker
3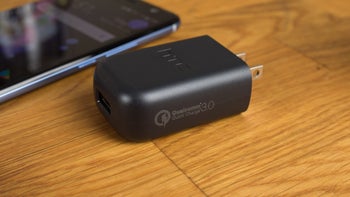 The HTC U11's fast charger
Nowadays, most smartphones support some kind of fast charge, but not all technologies are equal. Huawei's SuperCharge 2.0 can restore
70% of power in 30 minutes
, while Oppo's Super VOOC can charge a battery completely in just 35 minutes. Qualcomm's latest tech, on the other hand, can reportedly recharge 50% in just 15 minutes. But according to the company, this will be improved significantly next year.

At the moment, Qualcomm's Quick Charge 4+ uses a feature called Dual Charge which essentially allows power to flow through two paths instead of the usual one. This increases the power output of the charger to 18W and also improves heat dissipation. But come next year, the American company will be taking things a step further with Triple Charge which, just as the name suggests, will add a third flow of current. Aside from improving heat dissipation, this will also boost the output to a considerable 32W of power, which means 2019 flagships are set to charge significantly quicker than current ones.
In addition to the more traditional fast charging methods,
Qualcomm
will also be increasing the speed of wireless charging. Next year, the company has confirmed that it will introduce True Fast Wireless Charging which makes use of Dual Charge. Compatible charging pads will thus offer an output of 15W instead of the current 12W limit.
While it's unclear what name this new standard will go by upon launch, the tech is expected to be compatible with the next-generation Snapdragon 855 (
or 8150
) chip, which means the HTC U13+, LG G8 ThinQ, and many more could support it.
Recommended Stories