Qualcomm CEO sees cell base stations in your house
9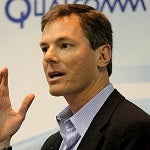 Qualcomm has been able to achieve success in the mobile industry that few other component makers have. The company recently surpassed Intel in market value and is now the biggest company in the semiconductor sector. Qualcomm is well positioned to maintain a leadership in the mobile communications field, since just about every handset manufacturer that uses 3G or LTE technology pays a patent royalty to the chip maker, from Apple to Sony. CEO Paul Jacobs, in an interview with The Wall Street Journal, discussed the company's perspective on the industry as whole, the "patent wars," and what the future holds for the company, and you the consumer.
Despite cellular service penetration reaching or nearing saturation in many markets, smartphone shipments are still growing. Qualcomm sees that as continued growth for mobile broadband. Jacobs also commented about Qualcomm's patent-licensing in the midst of all the patent litigation going on throughout the industry, "Right now, we're…trying to be as neutral as we can. But you never know. These things can happen. We are always prepared."
"Right now, we're trying to be as neutral as we can. But you never know. These things can happen. We are always prepared." - Paul Jacobs, Qualcomm CEO regarding patent litigation.
With regard to Apple and Samsung making their stand-alone processors, Dr. Jacobs was not overly concerned. Citing that most of the industry is not investing in developing their own processors, the goal is to get companies that are not using Qualcomm chips to start using them. Many companies are using Qualcomm's processors and the company will exploit the opportunities to attract more use of the Snapdragon series of processors.
Some forward looking concepts are quite intriguing. Qualcomm is committed to the mobile space, high-performance chips with low power consumption and new radio technologies. The company also sees an opportunity on the network end of the spectrum, "[W]e have a project to improve the capacity of wireless networks by 1,000 times." Dr. Jacobs also envisions cellular base stations that plug into household Wi-Fi or Ethernet to complement the "big" network, noting that the technology is much smaller and for a home based application, might be the size of a deck of cards.
When it came to location based services, such as pushed advertisements as you walk by a McDonald's restaurant, for example, Dr. Jacobs provided
insight
to an idea that seems similar to a
project being worked on by Google
. In the current arena, GPS ads are pushed when you walk by an establishment. That poses the opportunity for that establishment to also track you, and know when you walk by. Dr. Jacobs is not a fan of that model of merchants being able to track activity like that, "What will happen in the future is that McDonald's will just send out information, and as you walk by your phone will decide if you're interested in that information."
Qualcomm has some neat ideas looking forward, and it is clear the company will be playing a key role in how mobile technology continues to develop.
source:
The Wall Street Journal