Quad-core 1.5 GHz Galaxy S3 with full HD screen coming in July?
69
It just wouldn't be MWC unless a new Galaxy S model teased us somehow, and right on cue we're received a
new round of rumors
on the Galaxy S3 specs and its release date. First, BGR has updated the specs they first leaked over the weekend. They are now reporting that the bezel-less s4.8" screen will be a full HD 1080p screen that will be powered by a quad-core 1.5 GHz CPU, on top of the goodies we reported over the weekend, including a ceramic body, LTE, and of course Android 4.0.
When can we expect a phone of this degree of bad-assery? Apparently this summer, according to Android Authority, who has looked at all of the information from Samsung, the history of the previous two Galaxy S releases, and the lay of the smartphone market and deduced that the GS3 will land in July.
How did they come to this conclusion? Through a couple of lines of thought. Samsung is a huge sponsor of the Summer Olympics this year, and it would seem like an appropriate venue to market a recently released superphone. A major South African carrier has telegraphed that they are expecting to carry the phone in July, and Samsung has promised a more synchronized rollout this year.
Obviously if they can manage a truly global launch, then if anyone is getting the phone in July then everyone will. Samsung themselves said we should expect the phone around midyear, which would seem to indicate either June or July (although we all know how predicted launch windows can shift).
Samsung clearly wants to launch the GS3 in North America at the same time as the rest of the world, or at least with a much shorter window then we've seen the last two years, where U.S. customers were waiting months after the rest of the world had gotten their hands on the latest Galaxy S phone. But Samsung has a good reason to not let the launch slip past July if they can help it – the iPhone 5.
The iPhone is slated for
a complete overhaul
this year, as it reaches its fifth incarnation. It will undoubtedly be a monster phone, and it's expected to launch in the Fall. The weeks leading up to the announcement will see all of the smartphone air sucked out of the media as people wait for the release – so if Samsung wants to make a splash and run up the sales they had best get the phone out sometime in early or mid-summer – before the iPhone hype machine goes into overdrive and steals all the mind share from them.
We won't jump on the "it has to be July" bandwagon just yet, and we're a bit skeptical about whether Sammy can pull off a full HD screen so soon after 720p screens made it to pocket-sized, but we'd sure be excited if it turns out to be true. Certainly a June or July release date makes the most sense, if Samsung can hammer out the agreements needed with carriers (especially U.S. carriers) in time.
Finally, we want to make clear that the images in this article are just fan renders based on rumored features – they aren't actual product shots. You'll know if we get those, because there will be flashing lights and 36 point font trumpeting them if we do. In the meantime, enjoy one more render: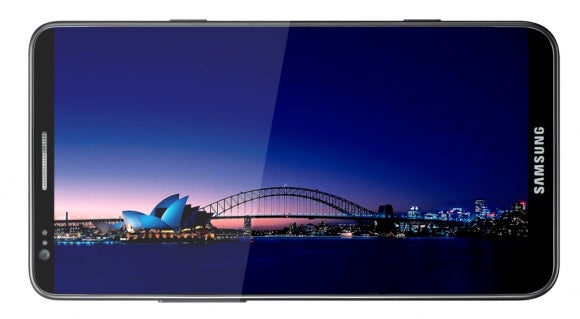 source:
Android Authority
,
BGR