New iPhone 5 details reportedly leak out
99+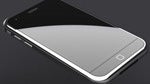 A "close source" has confirmed details on the timing and design of the next iPhone. Speaking to BGR, Apple's iPhone 5 will launch in fall of 2012, in a similar time frame to this year's iPhone 4S launch. This contradicts earlier reports that a redesigned iPhone might launch this spring.
The source also indicated that Apple would be using a plastic or rubber material for the bezel, covering a redesigned antenna that will once again encircle the phone, but without any interference from the user's hand. It will also allow Apple to use a new aluminum back plate, but without plastic inserts on the back plate, like those seen in the iPod touch and iPad.
Other reports have indicated that the new iPhone may use a four inch display, although this was neither confirmed nor denied by BGR's source. It's worth noting that other reports indicated that an "iPhone 5" prototype with a larger screen and a new design were
originally planned for this year
, but that the phone was scrapped in favor of the iPhone 4S out of concerns about iOS fragmentation, as the new phone would have introduced a new resolution that iOS developers would have had to account for.
It's also expected that Apple may look to put
LTE in the next iPhone
, as newer LTE chipsets with better battery life become available in 2012.
source:
BGR
Recommended Stories