Quad HD LG G3 battery life similar to a 1080p flagship, thanks to the custom 3A technology
30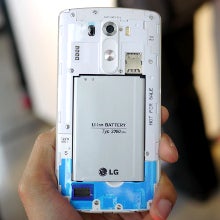 Samsung might have
LucidLogix
to thank for the stellar battery life of its
Galaxy S5
flagship, but LG is vying for a similar glory with the just-unveiled
G3
juggernaut.
LG says in the unveiling event below that it is using a set of its own unique battery life optimizations, known as 3A, which has kept the endurance of the 5.5" Quad HD G3 similar to what it would be with a 1080p display, despite the significant bump in
pixel
density. to help keep battery life as high as possible despite the increase in resolution. The "A" in the technology stands for Adaptive, while the "3" indicates the three pillars of this system - adaptive frame rate, adaptive clocking, and adaptive timing control.
Adaptive frame rate cools down the display refresh times when displaying still images, similar to what Sharp does with its IGZO display technology, for instance, thus effectively limiting the power draw on the battery unit significantly. The other two seem to be a function of the processor management - the adaptive CPU clocking and adaptive timing control limit the processor speed when running less intensive apps, and shuffles the workload around in the most efficient manner possible. Thus, one improvised test already showed six and a half hours of video playback time out of the G3, which is rather impressive given that the endurance has been tested at the screen's full brightness.