Put the Sense 3.0 lockscreen on your HTC EVO 4G
12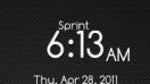 Owners of the HTC EVO 4G might feel a little envious since their device is loaded with Sense 2.1 and the upcoming HTC EVO 3G will launch with Sense 3.0. It might reduce the hue of green that EVO 4G owners have been wearing by downloading the Sense 3.0 lockscreen on their handset.
To be able to install the Sense 3.0 lockscreen, you need a rooted EVO 4G with a Sense 2.1 based Gingerbread ROM. Download and install the .apk file, turn off and then on your device and you should have the new lockscreen up and ready to use. And speaking of using the new screen, it features a round semi-transparent ring that you move up to unlock the phone.
The new lockscreen features music app controls and a alarm snooze/dismiss button. It should be pointed out that the applications shortcuts are not working. When it is up and running, the plan is for the user to drag the ring to a shortcut which will instantly launch the app.
source:
XDADevelopers
Recommended Stories