Psst, buddy, want a deal on the Apple iPhone 5?
33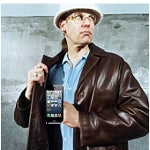 It's not terribly often when you see a deal for the Apple iPhone, so when the holidays roll around, the retailers start trimming a little bit off the price tag of Apple's iconic smartphone. We do feel the need to be protective of our loyal readers. If someone comes up to you in a parking lot with a trench coat and opens it to reveal a selection of
Apple iPhone 5
models and the
Apple iPad
, history suggests that you turn around and run. Do not look back. Those who have shelled out their hard earned money in these situations
have more often than not, been the victim of a scam
. Whether the phoney device turns out to be a mirror,
a block of wood
or
notepads
(although that last one took place at a Walmart store), if a deal seems too good to be true, it probably is.
Best Buy is offering a $25 gift card with the purchase of the Apple iPhone 5
. To get the card, you need to activate the device
in the store
after signing up for a two-year data plan with Verizon, AT&T or Sprint. Meanwhile, Radio Shack also has a deal for Apple iPhone 5 buyers. The electronics retailer is chopping
$20 off the price
of the 6th generation iPhone to $179.99 for the 16GB model, with a signed two-year pact. That means the 32GB variant is $279.99 with $379.99 the price of the 64GB unit.
At Target Mobile (pronounced Tar-jay by the upper class), you will find the same exact deal for the Apple iPhone 5 as found at Radio Shack. That would make great sense since Target Mobile is run by Radio Shack. Both the Radio Shack and Target Mobile deals are good through December 15th and are available
in-store only
.
If you want to get a good deal on the Apple iPhone 5 this holiday season, it is best to stick to to the better known retailers, staying away from the parking lot con-men.
source:
RadioShack
,
Target
,
BestBuy
via
MacRumors