Project Ara says that its "failed drop test" comment was a joke
22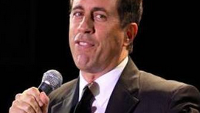 Just yesterday, we told you that a tweet from Project Ara seemed to indicate that the delay in the launch of the first modular phone
was due to a failed dropped test
. We even said that the drop test apparently revealed that the electropermanent magnets designed to keep the different modules together, failed to do their job. We didn't reach this conclusion by using a Magic 8 ball. Project Ara's tweet said "No electropermanent magnets. #Project Ara #FailedTheDropTest.
As it turns out, Project Ara was making a funny. A tweet disseminated today by the Google division explains that the reference to failing the drop test was a joke. The tweet also reveals that a new system for keeping the modular parts together is being tested. "
It's better too
," says the tweet, which ends with the hashtag #WorkingOnOurHumor.
While it is good to know that the Spiral 2 is apparently capable of surviving a drop test, we are still left with a delay in the launch of the device that was supposed to be released this year.
The modular phone won't launch before 2016
, and that is no joke.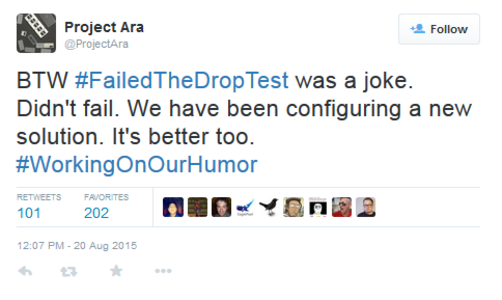 Project Ara says that its Drop Test Failure comment was only a joke
Thanks for the tip!
source:
@ProjectAra