Project Ara delay due to drop test failure of the electropermanent magnets?
27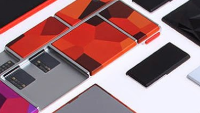 Just the other day, we told you that
the launch of the first Project Ara modular phone, the Spiral 2, is being delayed until 2016
. The original reason given by Google for the delay was the large number of Spiral 2 iterations, more than Google thought that there would be. But today, some new tweets surfaced, one of which seems to lead to a whole different reason for the modular phone's delay.
One tweet includes the hashtag #FailedTheDropTest, which would certainly be a worry for Google. The tweet also indicates that the electropermanent magnets failed to do their job after the impact of the test. The magnets are designed to keep the different modular parts stuck together. Google had previously decided that Project Ara would not hide or disguise the design that shows the phone being made up of different modular parts.
There is no word from Google on what will replace the electropermanent magnets. And a new way to keep the different modules together could force Google to revisit its decision to show off the phone's different modular parts.
A second tweet sent out today revealed that the Project Ara team has grouped all of the core functionality in a way to free up more space to add additional modules. That tweet contained the hashtag #ThinkingOfYou".
source:
@ProjectAra
via
AndroidCentral