Project Ara has found its first 100 beta testers
28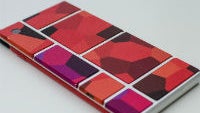 Back in October, soon after Motorola first unveiled the plans for Project Ara (née Phonebloks), a dscout research project was started to help the Advanced Technology and Projects (ATAP) group understand what users wanted from a modular phone. That dscout research is now done, and it has yielded quite a lot of information for ATAP, including who should be the first 100 beta testers for Ara.
Over 90,000 users signed up to the dscout project, and the plan had always been to give the 100 most active users access to the Project Ara hardware first. ATAP has released the names of those 100 users, who will eventually get a Project Ara phone for free. Unfortunately, it is a bit unclear when that will happen. The announcement mentions that Google (where ATAP lives now) will be refining Project Ara over the next 8 months. If that is the time table leading to the beta release, that would mean the first hardware would go out around March of 2015.
The plans for Project Ara are quite ambitious. The idea is to offer a fully
customizeable smartphone
with swappable modules for the display, CPU, GPU, storage, RAM, camera, battery, etc. And, on top of all that, it is planned to have the starting price for an Ara device be
just $50
, which would be a disruptive technology to say the least.