President fails to use veto; some older model Samsung devices are now impacted by import ban
92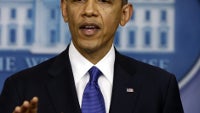 The 60 days that President Obama had to veto an import ban won by Apple against Samsung have now expired. That means that certain older devices from the Korean based manufacturer are no longer allowed to be shipped into the U.S. There will be many who feel that Obama's response is unfair since he
vetoed a potential ban on the Apple iPhone 4 and other iPhone and iPad models
earlier this year. That was the first presidential veto of a possible import ban since 1987.
This isn't the end of the line for Samsung as the company can now appeal the decision in court which puts a halt on the import ban until a legal decision is rendered. The administration said that the nationality of the two companies played no part in the decision. Samsung says that its newer models work around two Apple patents, one for multitouch and the other involving a sensor for headphone jacks.
While Apple had no comment on the import ban, Samsung's Adam Yates said, "
It (the import ban) will serve only to reduce competition and limit choice for the American consumer
." Some of the models covered by the import ban include the
Samsung Galaxy S 4G
, the
Samsung Fascinate
, and the
Samsung Galaxy Tab
.
source:
Bloomberg