President Obama's crackdown on excess mobile devices
24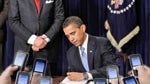 As the United States looks for additional ways to control spending, President Obama is demanding that all federal agencies examine mobile device usage and cut back on unnecessary spending.
The White House has found that some employees are given more devices than they actually need to do their jobs. When that happens, cell phones, smartphones, air cards, and tablets go unused, while the taxpayers continue to pay for service to these devices in addition to the initial cost of the hardware.
The White House provided some examples of success by citing that the Department of Homeland Security now conducts annual audits and has saved $10.5 million. Also, the Department of Commerce is expected to save $3 million by the end of this year by disconnected 2,648 wireless lines that have not had any usage for the last three months and optimizing the rate plans for the phones that are in use.
President Obama has signed an executive order, which gives agencies 45 days to construct a plan. Each agency's plan must reduce spending in several specific categories, including mobile devices. The plan must show a 20 percent total reduction of the 2010 fiscal year budget that can be executed by the 2013 fiscal year.
The President said that he couldn't wait for Congress to act. He said, "
We're cutting what we don't need so that we can invest in what we do need.
" Vice President Biden reiterated the importance of the order by stating, "
Today's executive order will stop wasteful spending and make sure we use taxpayer dollars efficiently and responsibly.
"
source:
The White House
via
Forbes