Premier Sprint subscribers can now get the Kyocera Echo before anybody else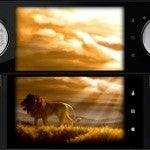 Even though the
Kyocera Echo
is coming out on Sunday, Sprint's premier subscribers who are keen on the funky dual-screen smartphone can already purchase it through the carrier's online store before anybody else. Several days of bragging rights is not all that loyal Sprint customers will get, the smartphone also comes with free shipping and without the need to pay a hefty upgrade fee.
For those of you who are not familiar with the whole "Premier User" thing, the easiest way to becoming one is to be a loyal Sprint customer for a period of at least 6 months, to pay all your bills in a timely manner, and to maintain a 3-month average of at least $70 for an individual plan. All subscribers who have been with the carrier for more than 10 years qualify for a Premier User status irregardless of their plan.
The Kyocera Echo is listed for
$199
– just as much as it will cost to anybody else after its launch, and even though its design has been getting mixed feedback so far, we are sure that the ones of you who like to stand out might have already found your future handset. On the other hand, despite having two 3.5-inch screens is an advantage, you might as well want to
see how the Echo performs
when benchmarked along with the competition.
source:
Sprint
via
Engadget