Kyocera Echo benchmarked
10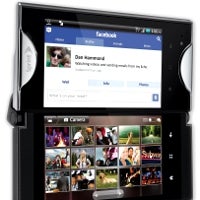 Kyocera Echo
prides itself for being one of the innovative phones on Sprint, thanks to its dual-display arrangement, and rightfully so. It might not be the sexiest phone out there, but having two 3.5" screens at your disposal comes at a price.
Dual-display doesn't mean it's dual-core, though. The Kyocera Echo is powered by a
1GHz QSD8650 Snapdragon
chipset, the same one that is in the
HTC EVO 4G
, which is getting a bit tired, compared to the dual-core silicon of late. It is precisely this arrangement we wanted to test, since it seemed perfectly adequate to light up two mid-sized screens at once, despite its age.
We did a quick Quadrant test on the Kyocera Echo, and the
810 score
we got was below the 900+ ones of the stock
Samsung Galaxy S
, for example, but about the norm for a first-gen Snapdragon chipset, so the only thing we are worried about now is the battery life in everyday usage. We'll know
pretty soon
, it is supposed to launch
April 17th
on Sprint for $199.99.