Pre-production AT&T branded Nokia Lumia 1520 up for sale at eBay
21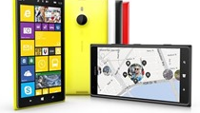 A pre-production model of the 16GB AT&T branded
Nokia Lumia 1520
phablet is now up for sale at eBay. Priced at $575, it really is not such a great deal unless you collect such things. Consider that a brand new model with a warranty is available to be pre-ordered from AT&T for $199.99 with a two-year contract, or $584.99 off-contract.
AT&T is giving away $20 of free apps
which takes its unsubsidized price down under the price of the phone on eBay. You can also pre-order the phablet from the Microsoft Store where it is $199 on-contract and $549 without a signed pact. Throw in $70 of free apps from Microsoft and buying the pre-production phone really doesn't seen worthwhile.
The eBay listed Nokia Lumia 1520 is a network test device and works on AT&T's pipeline, according to the seller of the phone. While the unit is a pre-production version, it does have the final design hardware and the final software is installed. The screen is lightly scratched.
This is apparently the second time that this particular phone has been put up for sale on eBay. The person who pressed the "buy it now" button the first time, never paid for the device which probably happened when the buyer realized he was better off buying the phone brand new from AT&T or Microsoft. With minutes left until the listing expires, no one has purchased the device.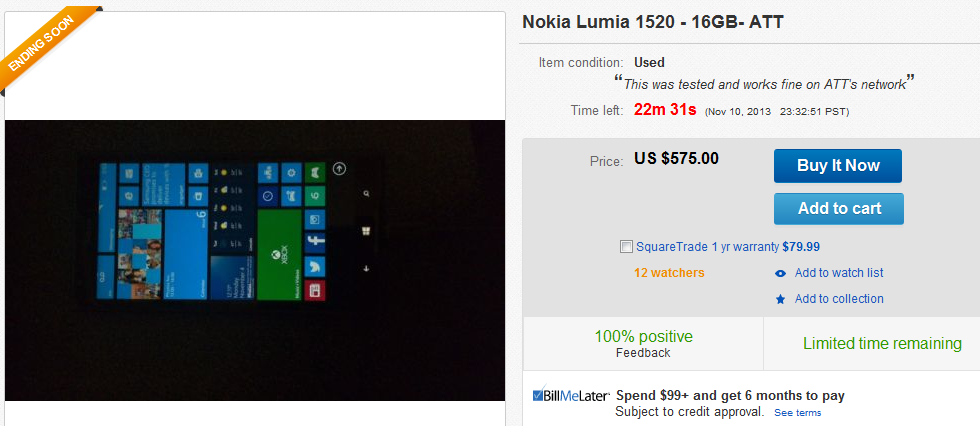 A pre-production model of the Nokia Lumia 1520 can be bought on eBay
source:
eBay
via
WPCentral