Pre-orders for Nokia Lumia 822 and HTC 8X for VZW now live, ship date Nov. 13th
11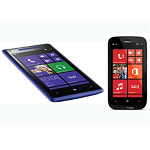 While AT&T will be grabbing much of the spotlight with the release of the highly anticipated
Nokia Lumia 920
and
Windows Phone 8X by HTC
tomorrow November 9th, Verizon is sliding its toe into the fray by announcing that beginning at 1:00am eastern time, Friday November 9th, the carrier will begin accepting pre-orders for the
Nokia Lumia 822
and HTC 8X.
The Lumia 822 will be $99.99 (after $50 mail-in rebate) on a two-year agreement and the Windows Phone 8X will be $199.99 on a two-year agreement as well. What we will also look forward to learning is what Verizon will have listed as the full-retail price of the devices, especially in comparison to the $450 retail price of the Lumia 920 for AT&T, which is a very, very competitive offering.
Unfortunately, there is still no release date or ship date associated with the announcement. For certain, you can expect
your new Windows Phone before Thanksgiving
. However, based on previously
leaked MAP documents
, it may not be too far of a stretch to expect delivery by November 12th or 13th.
Of course, nothing is really official until you have the goods in your hands. If you pre-order, let us know if the system provides you with any anticipated delivery date, and tell us what you ordered.
source:
Verizon
UPDATE:
According to sources talking to The Verge, retail pricing will be $549.00 for the Windows Phone 8X by HTC. For the Nokia Lumia 822, the retail price will be $449.99. That is the same price that AT&T list as full retail for the Lumia 920. Knowing that the 920 is a superior product spec-wise, we can speculate that Nokia is offering its own direct retail subsidy to AT&T to give the device an attractive price-point from every angle.
source:
The Verge
UPDATE 2:
The pre-order site is live. All devices have a ship date of Tuesday, November 13th , except the Red Windows Phone 8X by HTC which has a ship date listed as November 21st. The retail pricing is shown and is in line with what was reported earlier. So, which Windows Phone and which color are you going to get?