Possible release dates for a dozen of T-Mobile handsets
This article contains unofficial information.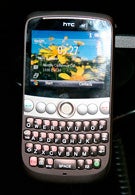 If you are waiting for the release date on a certain handset for T-Mobile, we just might be able to give you some idea of when to expect the device to be for sale. TmoNews has a "trusted tipster" who has provided them with launch dates for
12 upcoming handsets
. For example, the 2009 edition of the Sidekick, also called the Blade, is due out on May 13th according to the info. The
HTC Snap
(also known as Maple) is supposed to be launched on July 1st and thus would confirm rumors that a version of the phone is going to T-Mobile. Later that month, on the 22nd, the
Touch Pro2
(also called the HTC Rhodium or Wing II) is expected out the doors. The follow-up to the Android powered
G1
, the
HTC Sapphire
or
Magic
, has been delayed and no date for release has been scheduled. On June 24th, expect to see the
Sony Ericsson CS8
at T-Mobile. Does the number refer to an 8MP camera? The rest of the devices include some prepaid handsets expected to be offered by Nokia and Samsung with release dates stretching from April 29th to May 13th. The last four phones are the Samsung
T559
,
T469
,
T749
and
T659
due out July 15th through August 19th. No pricing information was passed along. Of course, there are so many things that can change the launch date of any of these devices so we wouldn't cancel that blind date just yet.
source:
TmoNews