Portrait comparison: OnePlus 7 Pro vs iPhone XS Max vs Google Pixel 3 vs Galaxy S10+
48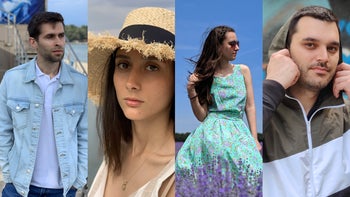 Portrait mode has become a staple of smartphones already, and you kind of expect each new phone to offer this functionality right off the bat. This applies to devices all across the spectrum - high-end flagships are not the only ones getting the trendy shooting mode, but most mid-rangers and more and more entry-level devices are also getting their fair share of portraiture on deck.
What constitutes a good portrait? Disregarding the vital artistic and subjective side of portrait photography, there are a couple of common purely technical features that are usually associated with an outstanding portrait. First of all, we need that shallow depth of field that constitutes the dreamy "bokeh" effect for the background, which helps the subject of your portrait really stand out. Next up, we need a lens with a longer focal length, something in the ballpark of 55mm or more. The OnePlus 7 Pro is one of the very few phones that
gets this particular aspect of portraits just right
.
Now, old-school cameras can easily meet those two prerequisites rather easily - just throw in a fast long lens and you will have all what's needed to snap a great portrait. However, nailing the correct focal length and the pleasing, natural bokeh are still two big hurdles that today's smartphones have to overcome. Of course, some cope better than others, and today we will be testing the very best smartphone cameras in this particularly demanding field - portraits.
We will put the OnePlus 7 Pro, Google Pixel 3, Apple iPhone XS, and Galaxy S10+ to the test!
Scene 1

Who knew that a windy day on a lavender field would prove to be such a nice setup for a quick portrait shootout? We did! This one is particularly hard because all the phones we tested did extremely well. Aside from a few very minor issues here and there, you can blindly pick a device and have a peace of mind that the resulting portrait would be excellent.


Samsung Galaxy S10+:
8/10
A great portrait that doesn't rely on heavy saturation or too much artificial bokeh. That's great, because it creates a very natural and "genuine" look. As we can see, the Galaxy hasn't erroneously blurred the hair of our model, which is a pleasant surprise given the particularly windy conditions that we encountered that day. However, colors look slightly faded here.

Apple iPhone XS Max:
8.5/10
The iPhone has shot an excellent portrait with no issues. The colors are a bit on the warmer side which makes them exceptionally pleasing. Contrast, exposure, details, and subject separation are all excellent
OnePlus 7 Pro:
8/10
We've said it already, but we'll say it again - the OnePlus 7 Pro uses the perfect focal length for portraits. Its 3x camera might initially put you off by being too close to the subject, but it makes you move and creates very proportionate portraits with excellent subject separation. This is true in this instance as well - we get a marvelous portrait. It has just one small flaw, though - the colors have a slight purplish tint.
Google Pixel 3:
8.5/10
The Pixel 3 has also snapped a great portrait. Colorful, well-exposed, very detailed, and it has also depicted the most believable bokeh. This is what you'd see if you used a real camera and shot with the lens wide-open - not only would the background be pleasantly blurred, but the foreground will be, too.
Scene 2
Samsung Galaxy S10+:
7/10
The Galaxy has had some problems with nailing the exposure in this shot, which has led to a slight "faded" and desaturated look to this portrait. Still, facial tones and details look great here.
Apple iPhone XS Max:
8/10
A much more vibrant portrait that looks the part. The more intensive background blur in this scenario looks great. The iPhone is also betting on a stronger contrast here, but it keeps it in check unlike the Pixel 3.
OnePlus 7 Pro:
7.5/10
A very natural and eye-pleasing portrait. Natural exposure and pleasing colors.
Google Pixel 3:
7.5/10
The portrait that the Pixel 3 has snapped is excellent, but it's a bit too saturated and contrast-y, making it a bit too intense, which prevents it from getting the cake.
Scene 3
Samsung Galaxy S10+:
5/10
Too soft and too over-exposed - the Galaxy S10+ has dropped the ball in this scenario, coming forth with a rather uninspiring portrait that is totally forgettable. Additionally,
Apple iPhone XS Max:
6.5/10
A rather good portrait here - aside from a few issues with background separation near the top of my head, this portrait is quite appealing to me. I like the vividness of it all, as well as the pleasing contrast and overall great exposure of the scene. Still, one can't excuse the yellow-green bouquet of colors that dominate my face.
OnePlus 7 Pro:
7.5/10
Not a bad portrait by the OnePlus representative, but it's definitely softer than some of its adversaries in this test. Background separation is excellent, with merely one or two artifacts visible (check the area near my left wrist, for example). The whole image is a bit over-exposed and colors are a bit washed out, but my face is exposed just nicely. The phone has nailed the correct skin tones on my face, making up for a rather
The signature underexposed look of the Pixel lineup is pretty obvious in this particular portrait here, making for a rather gloomy look that goes along great within the decadent urban context of this image. Background separation is great, but it should be noted that the Pixel has let a few artifacts near my hoodie slip through its computational algorithms. There's plenty of detail here, as usual with the Pixel, and the colors are just lovely.
Scene 4
Samsung Galaxy S10+:
5/10
This particular portrait doesn't exactly stand out with anything in particular - it's a bit soft and flat. Also, the fact that the Galaxy S10+ uses its regular wide-angle camera for portraits makes Victor's head look disproportionate in comparison with his body. A bad case of Mr Potato Head!

Apple iPhone XS Max:
4.5/10
A good portrait, all things considered... until you notice the glaring artifact on the left side of the image. The iPhone kind of forgot that some blur needs to be applied to this particular area of the background as well. This is pretty sad, as the photo is otherwise very good - sharpness and overall exposure are rather likable, though colors are not that realistic.
OnePlus 7 Pro:
6/10
A great entry by the OnePlus 7 Pro, which once again proves that using its 3X telelphoto camera to snap portraits is a great decision on OnePlus' part as we our subject is quite proportionate. No case of "Mr Potato Head" here! However, the phone struggles a bit when it comes to colors - the purplish OnePlus tinge is here once again, most evident on Victor's face.
Google Pixel 3:
6/10
That's a very good portrait, but the Pixel has overdone things here. Aside from under-exposing Victor's face beyond the point of artistic appeal, the Pixel has also applied too much blur to the background. This unrealistic bokeh makes our subject look photoshopped into place, which is not something we should be striving for.
Scene 5
Samsung Galaxy S10+:
7/10
Considering the difficult shooting conditions, the Galaxy S10+ has done a commendable job. First of all, it's among the two phones that even succeeded in capturing a portrait here (the other one being the Pixel), and the result isn't half-bad. Aside from the slightly washed out colors, we get acceptable bokeh in the background as well as a nice exposure of the whole scene that does a great service to the ambiance.
Apple iPhone XS Max:
1/10
Oh, look, it's one of the Men in Black!
OnePlus 7 Pro:
3.5/10
The OnePlus 7 Pro failed to capture enough depth information for a half-decent portrait here. Disregarding this, the resulting low-light picture above isn't particularly good either - there's tons of noise and unpleasant artifacts. I like the colors though - they are vivid and very likable.
Although it struggles with the sharpness and this image is a bit on the softer side, the Pixel has captured a good portrait. However, the background blur is once again overdone and this is giving the whole image an artificial look that is not very likable.
Conclusion
Google Pixel 3: 35.5
OnePlus 7 Pro: 32.5
Samsung Galaxy S10+: 32
iPhone XS Max: 28.5
These results are pretty telling. Sure, we have winners and losers at the end of the day, but the reality of the situation is very simple - in ideal conditions, you really can't go wrong with either phone! Whichever you pick would certainly meet your expectations and then some, but leave the iPhone at home if you're planning to shoot low-light portraits. Apple has still not nailed portraiture when the lights go down, which once again proves the be the true archenemy of the iPhone.
As usual in such contest, the winner here is the Pixel, which has elevated the subtle art of computational photography to new heights and is able to pull out a breath-taking image seemingly out of thin air.
The OnePlus 7 Pro is certainly the value-for-money winner here - not only it costs way less than all of its direct competitors, but it even trumps some of its most fierce rivals like the Galaxy and the iPhone flagships. Speaking of the Galaxy, it has the habit of slightly over-exposing portraits, which is not a bad thing per se, but this practice often affects colors negatively and makes for a somewhat dull image.