Porsche Design told Huawei not to include a display notch on the Mate RS
32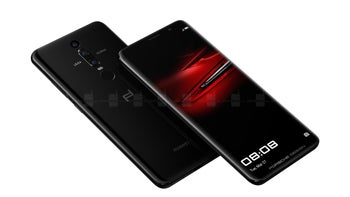 Porsche Design has confirmed that it specifically told Huawei not to include a notch on the
Huawei Mate RS Porsche Design
. The two companies have worked on a number of Mate-branded devices over the past two years starting with the Mate 9 Porsche Design. More recently, however, their partnership created the Mate RS which was announced alongside the
Huawei P20 line
back in February and noticeably lacked a notch. Now, in an interview with
Digitial Trends
, one of Porsche Design's key people explained why.
Speaking of the phone, Porsche Design's Design Director, Christian Schwamkrug, dubbed the project between the companies the "most intense" yet, explaining how the brands had discussions over every detail. Interestingly, it appears he was adamant from the start that no notch would be featured. After all, according to him, the display feature interrupts the overall design of the smartphone. Instead, in order to improve the symmetry of it, the team of designers at Porsche Design opted for a large 6-inch OLED display that was curved on either side, much like Samsung's flagship
Galaxy S9
series. In addition to the front panel, the company also had serious discussions with Huawei in regards to the amount of mirroring on the rear.
Unfortunately for the brand, it didn't entirely get its way when it came to the fingerprint scanner. The device oddly features two fingerprint sensors and it appears this was something Huawei ultimately chose to do. After all, Porsche Design pushed for the inclusion of the new in-display fingerprint sensor tech but, as
Huawei
pointed out to the brand, the technology is still pretty new and consumers may not feel as comfortable with the sensor. Because of this, a secondary scanner was placed on the rear, although the placement was carefully chosen by Porsche Design in order to improve the overall symmetry.

The brand also pushed for the best possible user experience, including features such as 512GB of internal storage and 6GB of RAM. Furthermore, Porsche Design carefully crafted the UI, adjusting everything down to the icon sizes and fonts. Ultimately, though, this level of precision comes at a cost, with the device being sold for $1,880 in the US.