Huawei P20 & P20 Pro Q&A: Your questions answered
12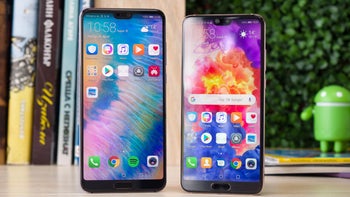 A few days ago we gave you the opportunity to ask us anything you wish about the Huawei P20 and P20 Pro. Unsurprisingly, you had tons of questions about the two interesting devices, and we are gleaming at the chance of answering as many of these as possible.
Let's go!
andriodfanboy1
:
"Is there any significant cam image quality difference in both p20 and p20 pro?"
PA
: But of course. The P20 Pro shines in low-light photography compared to its dual-camera counterpart, and in our opinion that's a pretty important thing to consider. You also get another 5x zoom camera mode which produces surprisingly sharp images.
Papa_Ji
: "
Where are blind camera test results....
"
PA
:
Here you go
.
Geordiet81
:
"Is there any way to change the views in folders etc? they are all list only, any way to change them to a grid view? i have tons of files on mine and just to long winded scrolling thru 100s of files/photos/music"
PA
: Well, the Gallery app displays your pictures in a grid, but all others file types are limited to a list view as far as we can see. You should probably get an external file explorer like
Files by Google
or
Solid Explorer
.
abdelfattah1978
:
"Is it the best phone to use Augmented Reality? if no What is the best? which is better P20 Pro or Mi Mix 2S? which one is better? for Augmented Reality"
PA
: The Huawei P20 Pro. For one, it's officially listed as supported on the
Google Developers' ARCore page
, which means that the experience will be similar to the one on the other certified devices. Of course, your mileage may vary, but the P20 Pro is probably a safer choice than the Mi Mix 2s.
GreenMan
: "
1.

Does it 'spy' on you?

2.

Do you agree with DxOMark's rating?

3.

Is it worth it to go for the so called 'Pro' variant instead of vanilla?

4.

Do you love the notch?

5.

Do you hate the notch?

6.

Do you wish it had no notch?

7.

Am I starting to annoy you?
"
PA
:
1.
Hopefully not!
2.
The P20 Pro has a good camera, but we've certainly seen better. As we pointed in our review,
"it has much colder colors than the others, and it often tends to underexpose photos and at the same time, sometimes it goes berserk with hugely oversaturated colors. And other times it shoots photos with washed colors, but often very different than what you see in reality. We encourage you to take a look at the daylight images below and notice how the P20 Pro looks different than its rivals."
Basically, if you like candy-looking images that almost always look like you've applied an Instagram filter on them, the P20 & P20 Pro are perfect matches for you.
3.
We think so, yes. Not only is the battery larger, but the additional camera and the larger 40MP sensor are definitely worth it. If you're keen on getting a P20, might as well splurge up a bit and go all in with the P20 Pro.
4&5.
Let's put it that way - we love the fact that you can 'hide' it.
6.
We welcome the extra display screen state for status and notification bar icons but we wish Huawei went the Samsung way and minimized the top and bottom bezels as much as possible without resorting to using a notch.
7.
Nope!
Plasticsh1t
:
"Could you benchmark the kirin 970 processor with the SD 845, Apple A11, and the latest Exynos SoC?"
PA
: Here's a benchmark between the Huawei P20 Pro (Kirin 970), Galaxy S9 (Exynos 9810), iPhone X (Apple A11 Bionic), and an Xperia XZ2 (Snapdragon 845):
cheetah2k
:
"Why is the gaming experience so poor on the P20 Pro? The touch input lag is terrible. The digitizer is not accurate either, with finger movement after a touch having to move 3-4mm before it registers the finger movement.. Did Huawei go for a low quality digitizer?"
PA
: Hmmm, sounds as if your device has a hardware problem; your best bet is to RMA it with Huawei. Gaming is buttery smooth on our unit and we experience none of the issues you mention.
Humanoid
:
"Why does it have iphone X ugly design?"
An.Awesome.Guy
:
"Do you notice the Notch while using the "hide notch option" or is it hard to notice?"
PA
: Even at full brightness the notch is hard to notice.
Sparkxster
:
3.
"P20 and p20 pro call quality.

4.

Does the p20/p20 pro have uninstallable apps?

5.

Does the p20/p20 pro have an always on display mode?"
PA
:
3.
The call quaility is excellent with both devices.
4.
Yes, there are uninstallable apps but they are mainly stock Huawei ones. You can't disable these as well...
5.
Yes, there is an always-on display mode. It turns off when it detects your phone is in your pocket.
Pattycow
:
"1) is it properly supported on t-mobile's network? 2) can you suggest an accessory to use the HDMI desktop mode that will also charge the phone? 3) does using Huawei Share make the phones files visible over wifi on a Mac? 4) is there any hope for Daydream compatibility? 5) how is the included universal remote app for the IR Blaster? 6) how does Huawei's fast charging compare to quick charge, dash charge, etc. 7) US availability and any warranty options?"
PA:
1)
The P20 Pro should work nicely on T-Mobile's network as it supports LTE bands B1/B2/B3/B4/B5/B6/B7/B8/B9/B12/B17/B18/B19/B20/.
2)
We
reckon one of these
should do the trick.
4)
Probably, but we wouldn't hold our breath. We've reached out to Huawei and will update you if we receive a confirmation.
5)
It's excellent, supports almost any device you could think of and has a sleek interface that is better than most third-party apps of the type.
7)
Official US availability is pretty bleak and there's no light at the tunnel for Huawei's local presence yet, but hey, at least you get third-party retailers as an option. Naturally, warranty terms will vary so the options should be carefully researched.