Poll results: Would you buy a Galaxy S6 with a dual-edge curved display?
12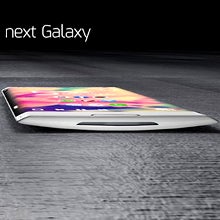 Samsung is apparently going to start using curved screens everywhere, as per recent comments of its chief designer, in order to set itself firmly apart from the competition, and combat the unforgiving profit slump that resulted this year in the face of increasing competition. Samsung chief Note
Edge
designer Kim Nam-su said that "
A change in the platform can bring about a variety of new considerations... I think a curved screen is a big solution for overcoming those challenges.
"
As a result of this expected pivotal change in strategy, the so-called
Project Zero undertaking for creating the Galaxy S6
might include not only a brand new and premium design paradigm, but also a bold new dual-edged screen concept, that will slope both to the left and to the right side of the flagship. We don't know yet what tangible benefits Samsung will concoct for the two side panels, or even if these rumors will pan out, but in case they do, we asked you last week if you would consider buying one, given that it will probably be radically redesigned compared to the current Galaxy S line members.
Interestingly, more than a third of our 5313 respondents immediately said "yes," whereas a similar number are taking the wait-and-see approach, expecting Samsung to wow them with options first. Just 28% are outright not content with Samsung reshaping the design of the Galaxy S line in such a drastic way, which bodes well for the eventual risky path Samsung might be taking with the S6.