Poll results: Will you be canceling your Note 7 order?
15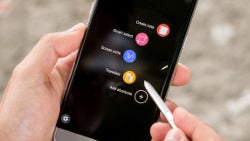 Samsung issued a total recall on the
Galaxy Note 7 production units
that have been shipped so far, saying that it is putting the phone's orders on hold, and at the same time collecting existing phones to determine which batches have been affected by the rogue battery cells that have slipped through the supply line quality checks. That is why we asked you last week if you are planning to cancel your pending Note 7 order, but more than half of our respondents said no, which bodes well for the Note 7 sales after the recall works its way through the system in the next few weeks.
Samsung owned up to the problem, saying that out of about a million units moved so far, just 24 have been identified as problematic, yet everyone who owns one will receive a brand new replacement if they wish in a voluntary swap. Still, for those who preordered, and are waiting on their shiny Blue Coral version to arrive, the announcement that the shipments are placed on hold to isolate the troublesome batch, and take it out of circulation must be pretty disappointing.
The Note 7 had its official launch in Europe pegged for September 2, for instance, but now it seems that it will be moved down the line, possibly with a couple of weeks even. Still, it looks like potential owners don't mind waiting a bit longer until the issue gets resolved.