Poll results: Which phone announced at CES 2015 appeals to you the most?
22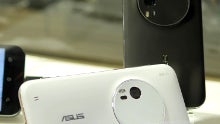 The CES 2015 expo is over, and, while most of it in recent years has been focused on consumer electronics different from phones and tablets, there were still major announcements from some of the world's best handset makers.
LG stole the spotlight with the amazing bendy
G Flex 2
edition, which received a full 37% of the votes in our poll below, while Asus surprised everyone with the
ZenFone Zoom
and its 3x optical zoom lens (13%), as well as the $199
ZenFone 2
with upper midrange specs, and even a 4 GB RAM version, which takes the second place in our survey for the most desirable CES 2015 handset.
This was not all, though, as Lenovo, the world's third-largest phone maker, finally outed one of its famous huge-battery smartphones, but with flagship specs for a great price, the
P90
, and also upgraded the "layered"
X2
design line with a
Pro
version. The Floridians from
BLU
said they are trying to be the Vizio of smartphones, releasing a stable of well-appointed handsets at rock-bottom price tags. Heck, even Nokia chipped in with the $29
215
handset aimed at emerging markets, and this one takes fifth place in our poll.
HTC also did what it should have a long time ago, and moved its 4MP UltraPixel snapper at the front, placing a more orthodox 13 MP camera at the rear of the newly-announced
Desire 826
, for instance. The HTC darling came in with the respectable fourth place, with 6% of the vote here.