Poll results: Which one of the new Kindle Fires you like best?
4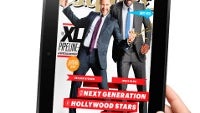 The biggest news in tablets last week was the unveiling of the brand new Kindle Fire HD series of devices along with an upgraded and cheaper Kindle Fire.
Amazon's Jeff Bezos delivered a smooth presentation showing us four new devices to choose from. The $159 Kindle Fire is a slightly upgraded version of the original 7-inch tablet. Then, the $199 Kindle Fire HD 7-inch is a tablet with a high-res screen and a dual-core processor, much like the Nexus 7 but at that same price it offers 16GB of internal storage, twice more than the Nexus.
Amazon also surprised us with a 8.9-inch Kindle Fire HD. Not only this was unexpected, so was the very high-res 1920 x 1080-pixel screen and low, $299 price on the device. With LTE and more storage, the same tablet goes for $499.
So
which one of the four did you like most?
Seems that the majority of our readers found the perfect balance in the $299 1080p 8.9-inch Kindle Fire HD. Almost 50% of the votes went in the 8.9-inch Fire HD direction with the $199 Kindle Fire HD 7-inch being the closest runner up with around 32% of the votes.
All new Amazon tablets are up for pre-order now, so you can back up your votes with your dollars if you wish so.