Amazon Kindle Fire HD 8.9 Review
5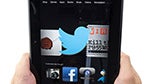 Introduction:
In order to gain a wider audience, it's generally a good idea to provide consumers with variety. Sticking firmly with the 7-inch tablet model, we've seen Amazon's name rise to fame thanks partly to the super affordable price point it introduced with its Kindle Fire tablet from last year. This time around, though, the online retail giant decided to move up in size by offering the
Amazon Kindle Fire HD 8.9
– in addition to the new 7-inch models of the Kindle Fire that were launched not too long ago. Now that they have a somewhat "full-sized" tablet in tow, it'll be intriguing to see if it can make a dent in the space, which is currently being occupied by recognized tablets like the
iPad 4
,
Nexus 10
, and
Microsoft Surface RT
.
The package contains:
microUSB cable
Getting to know your Kindle guide
Design:
So what's the best way to describe this new model? Simple, it's merely a larger version of the 7-incher
Amazon Kindle Fire
tablet. Utilizing the same design DNA of its sibling, it's wonderful that this model feels and looks great for its pricing, which is comforting seeing that the original Kindle Fire just felt, you know, cheap. Just like some of its highly esteemed brethren, its slim profile construction (0.35" thick) is complemented by its sturdy build quality – albeit, it's has some noticeable weight (20 oz) to its backing. With its soft touch matte casing, it maintains a very clean appearance, which is only broken up by the metallic strip in its rear. Close to having a 2-inch increase over its shorter sibling, this tablet proves to be unwieldy to operate with a single hand – so two-handed operation is necessary. Overall, it might not flash a stylish design, but heck, at least it doesn't come off as cheapo.

Just like before, the only
camera
found on the tablet is the 1.3-megapixel front-facing camera above the screen, which is enabled for video-chatting and taking some self-portrait shots.
Hardly a surprise, considering it's the same design as before, its physical home button and volume control are difficult to feel out with our fingers due to their flat looks. Still, they offer springy responses when pressed. In addition to finding those two buttons
around its trim
, we also spot its 3.5mm headset jack, microphone, microUSB port for charging/data connectivity, and an oh-so useful microHDMI port for easy video-out functionality. In the rear, the only items spotted there are the two speaker grills, which are incorporated into the metal strip and placed on both edges
Display:
Even now, we're still astounded to find many inexpensive tablets bearing some really sharp looking displays – with this one being no exception! Specifically, this is packing an 8.9-inch 1920 x 1200 IPS LCD screen, which puts out an admirable pixel density of 254 ppi. Indeed, it's impressively detailed, but not quite as stunning compared to the Nexus 10 display, but to be honest folks, most people would be hard pressed to determine which of the two is more detailed from a normal viewing distance. Still, it has one great overall package that's further enhanced by its iridescent color vibrancy, strong brightness output, wide-viewing angles, and great outdoor visibility. Thankfully, we're not seeing any evidence of bleeding around the edges this time around with this one.
Recommended Stories