Poll results: Do you use the memory card slot in your phone?
72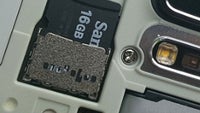 Now that even Samsung decided to ditch memory cards and swappable batteries in its flagship handsets for the year, we are increasingly staring at a future where high-end phones are without microSD slots, with only LG from the name brands holding the fort for now.
The sheer amount of
unibody metal phones
that were outed this year in the Android universe is breathtaking, and unlike any other year so far, so the demise of the memory card slot seems like a growing trend.
One can never have enough storage on their phones, though, and, although embedded memory is faster and more convenient, manufacturers often ship their phones with the basic amount for the category only, be it 8 GB, 16 GB, or 32 GB, then tack on additional pricing if you want more. This is why we asked you last week if you are using the memory card slot that your phone eventually came with, and with what amount of storage.
A surprisingly low amount of our 2533 respondents (14%) are sporting phones that don't have a memory slot, given that it was not until recently that the biggest proponent of microSD slots and removable batteries - Samsung - went unibody with the S6. Of those who have one, even smaller share (7%), is commanded by folks that have a microSD slot, but are satisfied with their phone's internal storage amount. Most people are placing a memory card if their phone gives them the chance, though, and the highest percentage goes to our respondents with 64 GB of extra storage, or more. Given how cheap those cards have become, who can blame them, considering the extra sums that phone makers charge for the same amount.