Poll results: Do you still think that OnePlus 2 is the best value-for-money phone?
23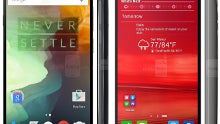 The closest competitor to the newly-announced
OnePlus 2
handset are the
Lenovo K80/P90
- a dual-SIM 5.5-incher with 13 MP OIS camera, 4GB/64GB memory, and a huge 4000 mAh battery, stuffed in a chassis thinner than the OnePlus 2, and going for about $300. Then there is the
Asus Zenfone 2
with 4 GB RAM and 64 GB of storage, which can be had for about $300, too, and also features a 5.5" 1080p display plus 13 MP camera on the back, just like the OnePlus 2.
Those two phones are lacking some of the features that the OnePlus team placed in its second handset, like a USB Type-C connector, laser autofocus, or a fingerprint scanner, but they do have NFC, for instance, unlike the OnePlus 2. In any case, we wanted to ask you if you still consider the OnePlus 2 the best value-for-money handset, like its predecessor undoubtedly was when announced.
On paper, the OnePlus 2 delivers Snapdragon 810, OIS camera with laser autofocus, USB-C, a 4GB/64GB combo, unique side and home buttons, and all the rest of the jazz for less than $400. There is still an invite system, though, and considering last year's time lag before the phone was widely available for the announced price, we were curious what you thought about this year's OnePlus edition.
Well, it turns out that the optimistic camp still prevails, albeit slightly, with 60% of the respondents positive about the OnePlus 2 virtues, at least in its price range, whereas 40% think that there are better options out there now. We'll see how CEO Carl Pei and his minions will fare this year with the invite system, which has turned out to be the thing that can make or break a OnePlus phone.