Poll results: Do you care if your phone has a replaceable battery?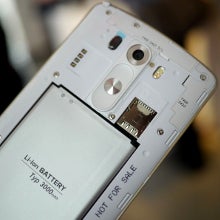 Having access to the battery compartment of your phone means that you can carry a spare or two with you when you know you will be away from a charger for a while. Also, it might be helpful if your phone freezes to the extent that only taking out the battery might help, though these cases are rare. Last but not least, a removable back cover and replaceable battery usually means that third party companies can issue extended battery solutions which add less bulk than a charging case, or they might offer rear covers made of a more premium material.
Still, out of the major smartphone manufacturers, only Samsung and LG seem to have remained loyal to the removable battery concept this flagship season, with the
Galaxy S5
, and the
G3
. That's why we asked you last week if you care about a replaceable battery in your smartphone that you can swap on the go, or if you are fine with a sealed battery compartment, as long as the battery life of the handset is in the acceptable range, like in the current crop of unibody flagships that includes the
One (M8)
, or the
Xperia Z2
.
As you can see from the results below, our 4163 respondents are quite evenly split on the matter. The 53% majority says that a phone has to be very convincing to woo them without a replaceable battery, and they would rather opt for one where they can take the juicer out, and swap it at will. The other ~47% say they don't really mind a sealed battery compartment, as long as the battery life is still decent, which bodes well for the new crop of unibody flagships, like the
Xperia Z2
, or the
HTC One (M8)
. Still, the preferred option for most respondents is that they'd rather have a replaceable battery in their handsets.